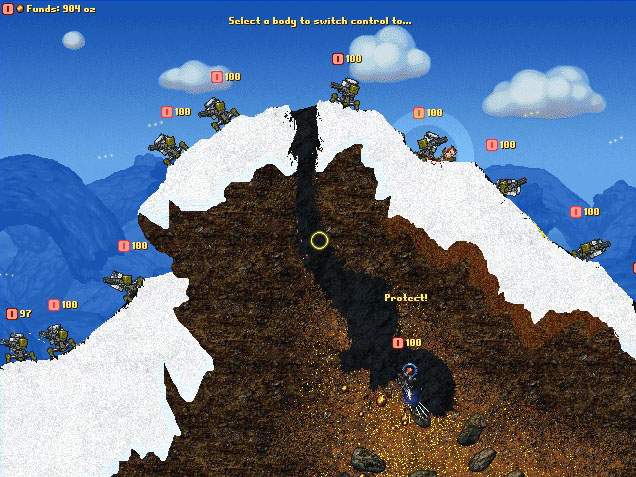 Yup, a fresh build is out, immediately available here, or on the HIB download page for you dear Humble Bundle customers! Mostly fixes and tweaks in this one, but there's some new fun content too!
Fixed broken custom pie menu options; now they work as advertised
Fixed over-drawing of glow effect on selection cursor and aiming reticules. No more fat glows
Fixed duplicate team objective cursors added each frame in activities.
Fixed additional (I think all!) mouse control conflicts with other control schemes.
Fixed resolution setting issue. The game will now try to use whatever res is set in settings.ini, no matter how high or silly it is. The in-game options menu will still automatically set to 2x fullscreen scaling on high resolutions though. This is a compromise between what will suit first time players, and the power users who want inappropriately high resolutions.
Gave the Coalition Gatling Drone some more Coalitionish sprites – Lizard
Added Thumper Grenade Launcher; tweaked Nailgun, Railgun, Scouting Rifle, Annihilator, and a lot of other stuff – CaveCricket48
Improved Lua AI sentry behavior. Improved aiming at very short distances – Abdul
The Dummy Rocklet now respond to delivery/stay/return orders properly – Abdul
Made grappling gun more mouse-friendly – CaveCricket48
The Lua AI was modified to make it easier to add custom behaviors. Humans try to fly to their targets after losing both their legs. Added a Lua AI for the Gatling Turret – Abdul
Updated enemy drops in activity scripts, fixed a bug on the Annihiliator – CaveCricket48
AI now fires the Annihiliator with longer-charged shots. – Abdul
Heavy Sniper rounds no longer bounce – CaveCricket48
Balancing of Blast Runner and Gatling Drone and Turrets – TheLastBanana
You can follow any responses to this entry through the RSS 2.0 feed.
Both comments and pings are currently closed.