We are nearing the launch of our Early Access game-only preview, which will cost a lot less than the special Contributor Edition! (however, it won't include editors or access to the Contributor Community) In preparation for this, we have been busy building the real caves and challenges that will eventually fill the "Primoid" Planetoid completely. With this fourth update to the Contributor Edition, we invite everyone in the Contributor Community to use the built-in feedback forms to tell us, but also wield those Crush2D editors to show us what you would change or improve!
Highlights of the goods:
A good THIRD of the entire first adventure Planetoid, aka the "Primoid", now has playable content and is ready for your feedback and improvement:
Tutorial, where baby Pioneers learn how to walk
North Hub, which connects several areas. Also serves as a rocket silo, suitable for the eventual construction and launching of a reusable spacecraft. You will need that to escape this rock in and complete this first Planetoid's Robinson Crusoe-esque scenario.
half of Carbon Cave, where deadly organic creatures lurk, ready to tear you apart.
half of Metals Mine. Remains of a mining operation by humans to get the Aurium buried deep inside this Planetoid. They seem to have dug too deep and bad things happened. Various robots and mining machinery can be found here, useful for collecting the resources you need for building that rocket.
and the Surface, a terribly dangerous gauntlet in a vehicle, and downright suicidal without one. Creepy fauna and natural obstacles present extreme hazards, but it's the only way to get to the southern hemisphere (for now).
Playtesting feedback forms integrated into the game at the end of each area named above – can you get to all four? Tell us directly what you liked and what you'd like to see improved.
Massively improved locomotion mechanics of the Pioneer, also consistent over all the main Pioneers
Lots of improved creature behavior (bird pooping AI is a go)
A massive amount of bug fixes and betterment everywhere as we "eat our own dog food" producing the real game content with the Crush2D editors
Breakable lamps make for fun target practice. Also, atomize them for resources, and Assemble them wherever you want to improve the ambience. Or toss one at a monster, maybe it will scare them. (light-sensitive creatures may be a thing)
Spoiler Alert!
To get an overview of what we're planning for the entire Primoid, and an up-to-the-minute state of development, go check out our Trello board here
If you have been tempted to take the plunge with the one of the world's most powerful 2D physics engine and tools, right now is a good time to jump since the Planetoid Pioneers Contributor Edition is a solid 20% off this weekend!
With it, you get a killer game development environment seven years in the making, and now also a real juicy preview of what the game we are building with it will play like. As a Contributor, you have a real chance to take an active part in the development of this unique action adventure!
The newest version with much of the content and features we put together during our team's summer sprint called "Project Slovakia" is in this Contributor Build 3 (already available to our Contributor Community for a few weeks now).
Some of the highlights:
New local PvP game mode/Planetoid ("Carnageoid") with three arenas
New tutorial segment on the "Primoid" Planetoid
Visual overhaul of many Planetoids
Smooth zoom out on large Planetoids, minimap overview system
Blueprint mass scanning unlock sytem
Refined pioneer controls and behaviours
Massive optimizations everywhere, and more to come
Pio can pickup any assembly up to 150kg
Pio and creatures can get knocked out by hard hits, especially to head
Pio can carry 200kg lumps of resources and throw them
Pio automaticaly prints lumps when he cant carry more resources
Pio can stow things on back, swap them with what is held in hands
Pio can use one-handed tools
Improved AI systems with behavior Zones in scene for simple setup
AI and Pioneer team tag system – build pets and helpers!
Improved player feedback via HUD
Tons of new and improved blueprints like tools, weapons, and structures
Fancy new particle systems, terrain assets, sounds
Hundreds of bugfixes, see them all here: https://twitter.com/DataRealmsDev
Lots of new useful Lua functions
So we're a bit late with this one – it was supposed to be out a month ago, but we had several (good!) things distract us, like preparing for our two-month sprint with the core team together in a cabin in Slovakia, which is now ongoing:
ProjectSlovakia images on Twitter
Anyway, we did have some great feature news to share even back then, like:
New Labroid Planetoid Scene and Activity, with a monster boss battle in the core
Several new Blueprints like teleporter, flamethrower trap, new chests, etc.
Pioneers can now pick up and throw smaller, circular resource chunks (200kg) vs the huge and frankly unrealistic 1000kg ingots before (which required physics cheats to be lifted). The large ingots are still useful for storage and maybe for towing in a mining cart that is pushed or pulled by a robust Rover.
Entire Asteroid Belt maps can (theoretically) be completed now and are shown as such on the metamap. They are completed by successfully finishing all the Planetoids in them.
BP Fauna Knuckles: The first AI that is mountable, rideable, and controllable after having been printed (so it is friendly toward its creator). KNUCKLES SMASH!
Most printed AIs now ignore the Pioneer that printed it.
Abstracted out and added a generic biped move-behavior to the lua folder. Used both by Bot Flip and the new blueprint, Bot Sentry.
So go forth and enjoy the above in the latest build in the main (non-beta) branch on Steam!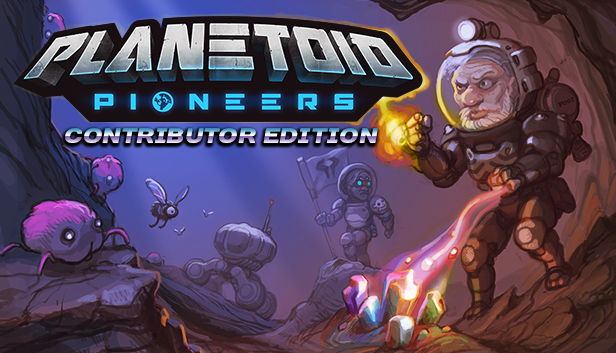 The first major build of Planetoid Pioneers Contributor Edition has been released, and it's a juicy one! Major improvements include:
Primoid gameplay runs much faster
All Editor modes run the simulation MUCH faster
Carnageoid with last-man-standing gameplay
Lots of Scene Editor improvements and added layer control features
Steam controller support now works again
Better full-screen handling; two alternatives with Alt+Enter and Ctrl+Enter
Screen shake!
There's plenty of other changes based on Contributor feedback, so head over to our repository twitter stream for the nitty-gritty details.
ALSO, we have opened up our beta branch for those of you who want the very latest features straight out of the oven! Just right click the Planetoid Pioneers entry in your library list and go Properties in the drop-down, and then opt-in to the beta under the Betas tab. (leave pw blank)
That's all for now! Next major update will be gameplay and content-focused, so stay tuned ~
– the Data Realms team
For everyone in the Pioneer Program (sign up here), this is a big update day we've all been waiting for.

Head on over to you-know-where to get it! Changelog and more info coming soon.. this is a big step from the last test build.
The core team at Data Realms just spent the last three months working together at Stugan, showcasing during Gamescom, PAX Prime, and also having a series of meetings with platform holders including Nintendo, Microsoft, Sony, Valve, and several others. The responses were very positive, telling us that we have achieved a great foundation and direction for the project. However, it was also made clear that expectations have escalated for Steam Early Access, and we received wise recommendations to build more game content and polish before pulling the trigger. So, we have come to the conclusion that we should postpone the Early Access release of Planetoid Pioneers to early next year, instead of rushing it out the door this fall.
In the mean time, we will be updating the Pioneer Program test builds – if you are interested in participating, sign up at http://signup.planetoidpioneers.com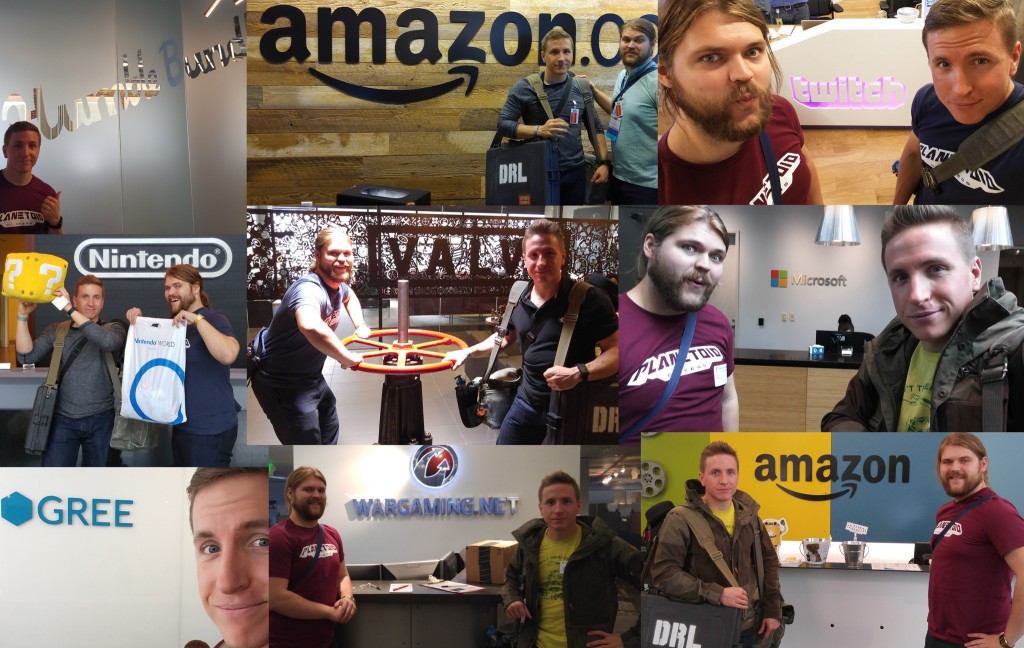 Check out what we've been up to so far at
Stugan
:
So this happened today at
Stugan
:
Quick update on our presence at DreamHack Summer 2015 RIGHT NOW:
Official page with info: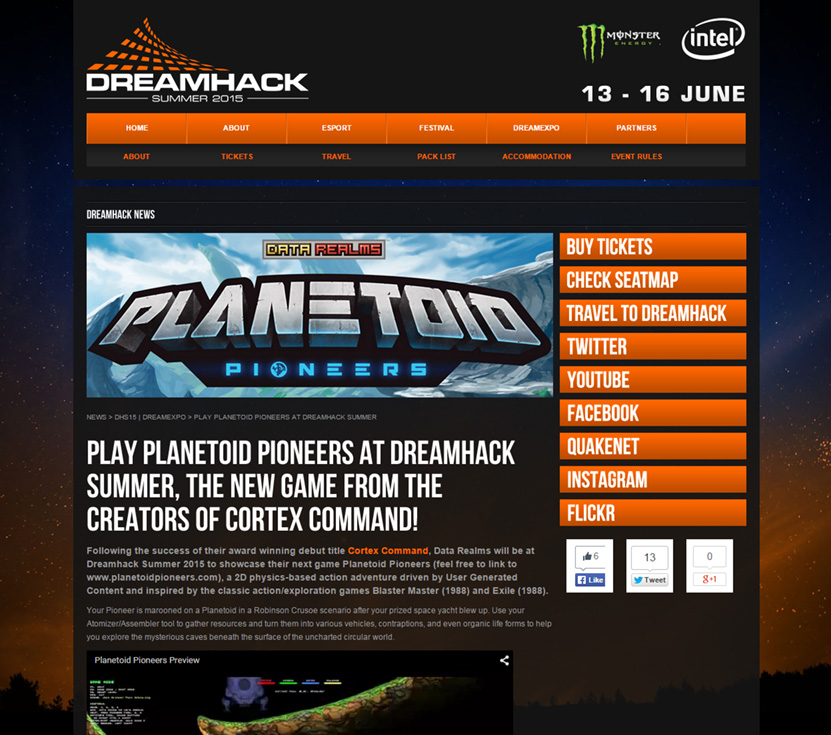 Come see us at the DreamExpo booth located in Hall B!