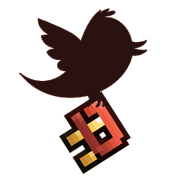 Just wanted to give a heads up that we have now directly connected our internal Subversion repositories to Twitter, so that you can see what we are doing on our various projects on a daily basis! Follow us here, or just keep an eye on the top edge of this Dev Log page. Each tweet is prefixed with a name which shows the area the commit happened in, as follows:
CCData: Game data content of Cortex Command
CCSource: Source code of Cortex Command
CVESource: Source code of Cave Vehicle Engine
This should do a better job of informing everyone who wants to keep closer tabs on our progress, while not requiring any additional work for us on the dev/content team (we write these commit log messages anyway!)
Hey everyone! Ignore the horrible photo of me in the last post. There are way better pictures of me on the web.
As Dan introduced, I am Andy Moore ("weasel"), professional Community Designer and Manager. I'm a big fan of Cortex Command, and have been following it for years. I'll be the BatPhone – the direct line to the Commissioner that you, the fans, can pick up at any time. I'm active in the forums and on IRC as well, and am trying to crank up the level of transparency you guys see.
In my travels I've found that many indie developers love to have a community, and love to have a fan following – but detest the level of commitment and the hours of work it takes to put into keeping it running smoothly. Most devs simply want to concentrate on making the game, and not deal with all the emotional issues that come up with forum drama and constant email requests. That's where I step in!
I'm hoping to post here very regularly – maybe get it down to once per day, but we'll see how much content I'm able to generate. Dan suggested I tease you guys with some new art, so I've clipped two bits of it into this post. I'll reveal the rest of the image over the coming days. 🙂
If anyone wants to get in touch with me – the best bet is the forums or IRC. I'm happy to share my email address though: andy@datarealms.com. Drop me a line if you want to discuss anything – it might take me weeks to get back to you, but I will try to write back to everyone.
In the coming weeks I'll see about slapping together some videos, interviews, get some long-standing questions answered, and see what other media I can come up with. Peace out.
There will be a little gap in new builds and activity for a while. We need to divert some time into other work that actually pays, so we can keep working on the Data Realms projects later. Something has to take care of the bills, I'm afraid…
In better news: when we come back we will start cranking away on the scene (level/map) editor, and it will kick ass. With this completely in-game WYSIWYG tool, you'll be able to create the layers of terrain, scatter the debris in the ground, place Terrain Object hierarchies, and place individual Movable Objects (Actors, etc.) wherever you want. Then you can immediately test your scene and see how it plays. It'll all be completely controllable with either the mouse or gamepad.
So keep checking back here – I'll be posting some UI concept sketches for the editor later. Just don't hold your collective breaths for new builds for a while.
Prom sent me this from 4chan… have no idea where or when it came from, but damn if isn't great:
(Click to enlarge)
Considering it refers to the year 2000 as some semi-distant future, I'm impressed by its accuracy!
Arne busts out some new personal art! This is not related to CC, but damn check it out nonetheless:
http://www.itchstudios.com/psg/main.php?id=rifts
I just thought this was funny:
http://www.joystiq.com/2006/07/20/colin-mcrae-less-popular-than-dirt/
(D.I.R.T. used to be the name of the Cortex Command project, more info here)
This is a real treat if you're into old games – check out Arne's (Prometheus') recent update to his site with tons of remake concept art and other amazing stuff:
M.U.L.E.:
http://itchstudios.com/psg/main.php?id=mule
Utopia:
http://itchstudios.com/psg/main.php?id=utopia
DragonQuest:
http://itchstudios.com/psg/main.php?id=dragon
Alternative Metroid game:
http://itchstudios.com/psg/m05/designdoc.htm
Frontier Elite paper models – print and make 'em at home!:
http://itchstudios.com/psg/ecp/frontier.htm
And I hear there's even more to come soon, so keep an eye out on his site!
Testing some ideas combining D and R, I think I like 2 the best out of these.
Edit: Another variant

Har jag närt en KOMMUNIST vid min barm?!?
Should be a bit fatter maybe…
…like this?
–
[DT edit] Or this?
I think the merged D-R insignia gets a little too abstract… will probably be hard to get people to make the connection in their heads to the words Data Realms. Why not just keep it clear and pixel-clean?
–
[Arne edit] Maybe, but on the other hand logos are supposed to be rather abstract simplifications because you don't want to type out the entire thing.
[DT Edit]
mmm?
[Arne edit:] Umm? Thinner on the left.
We are working on a new fresh logo for DRL… here's some alternative starting points:
The second one needs coloring.. it's not supposed to be three-in-one like that.
Please give feedback in the comments!
This is the new place where development on the Data Realms projects will be documented and discussed! The old dev forum will still stick around, but won't be the main conduit for updates on our projects anymore.
So stay tuned for a new burst of activity in the Data Realms!