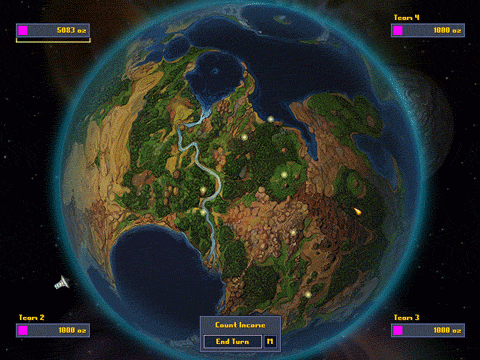 Here's a little preview of what one of the phases of the turn-based metagame will look like.
Specifically, this is the income-counting phase where all the revenue from each team's owned mining bases gets tallied and added to their gold accounts in the TradeStar. When the lines actually point to the TradeStar, it indicates the money that team had left over "in the bank" since last turn.
In designing these UI animations, the challenge for us is to always show in a graphically clear and appealing way what's going on with the flow of money in the metagame.. I hope this draft approaches that goal!
I know you are eager to try this thing out; the trouble with building a turn-based game system is that none of it is really playable until all the components have at least a baseline of functionality implemented. If any one phase of a game round doesn't work yet, you can't really play the game at all.
The good news is that we're currently making good progress and are completely focused on closing that gameplay loop, at least in a basic fashion. As soon as we do, the long-awaited new build will be out for you to try and give us feedback on!
You can follow any responses to this entry through the RSS 2.0 feed.
Both comments and pings are currently closed.