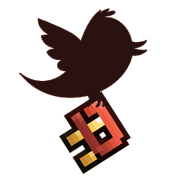 Just wanted to give a heads up that we have now directly connected our internal Subversion repositories to Twitter, so that you can see what we are doing on our various projects on a daily basis! Follow us here, or just keep an eye on the top edge of this Dev Log page. Each tweet is prefixed with a name which shows the area the commit happened in, as follows:
CCData: Game data content of Cortex Command
CCSource: Source code of Cortex Command
CVESource: Source code of Cave Vehicle Engine
This should do a better job of informing everyone who wants to keep closer tabs on our progress, while not requiring any additional work for us on the dev/content team (we write these commit log messages anyway!)
You can follow any responses to this entry through the RSS 2.0 feed.
Both comments and pings are currently closed.