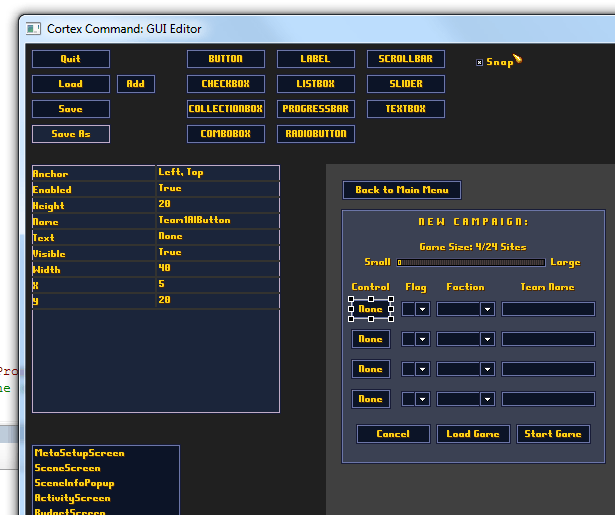 Hello everyone, and belated happy new decade!
To the right we're cranking away at one of the several menus and dialogs needed for the Metagame (aka "Campaign") mode. In the coming days and weeks, I hope to throw up some more mockups, teasers, and info about this aspect of the project which will tie the whole Cortex Command experience together. In short: it's a turn-based game which sits on top of the tactical missions (hence the "meta" – i.e. a game about the game) and puts them in a larger context. What happens in the tactical on-surface battles directly affect the orbital metagame, and vice versa.
We have cut away a lot of the feature creep and finally nailed down a feasible scope for this Campaign mode, and I think what we've ended up with is going be very fun to play. As always, we're making it all data-driven, so you crafty guys can make and mod its content for a customized experience.
Having achieved a fairly clear and realistic picture of exactly how it's all going to work is pretty exciting for us, so I expect productivity on this to really pick up! Stay tuned..
You can follow any responses to this entry through the RSS 2.0 feed.
Both comments and pings are currently closed.